The Development Tracker follows construction projects around downtown and Northeast Minneapolis
Hook & Ladder
2212, 2316, 2320 Jefferson St. NE
Newport Midwest
Newport Midwest celebrated the groundbreaking of Hook & Ladder with a June 21 ceremony, though construction won't begin in earnest until early July, said Becky Landon, a principal with the developer and CEO of the Landon Group, a consultant on the project. The two-building  complex will bring 118 apartments to the Holland neighborhood about a block south of Lowry Avenue that will be affordable for those earning 60 percent of area median income. One building will be constructed to Passive House standards and another will be more traditional and will be built to Green Communities criteria. The project will be landscaped and amenities will include a dog run, a central courtyard and playground. Landon said they are working with the neighborhood association to create a bicycle and pedestrian connection through the project site to connect 23rd Avenue. Hook & Ladder is slated to open in the fall of 2019 following 16 months of construction.
Ox-Op residences
1111 Washington Ave. S.
Solhem Cos., TE Miller Development
TE Miller Development of Eden Prairie and Minneapolis-based Solhem Cos. are planning a seven-story apartment building that would replace a building home to Grumpy's Bar & Grill in downtown Minneapolis, according to a preliminary proposal submitted to the City Planning Commission Committee of the Whole. The building, noted by the city as Ox-Op Gallery and Residences, would include a 1,400-square-foot space for an Ox-Op art gallery, once located behind the building. The 150-unit, market-rate apartment building would have 103 enclosed or underground parking spaces and parking for 220 bikes. The proposal calls for a 2,400-square-foot tenant common space and two-story live-work units along 11th Avenue. The building would wrap around Day Block Brewing, which is not involved in the project.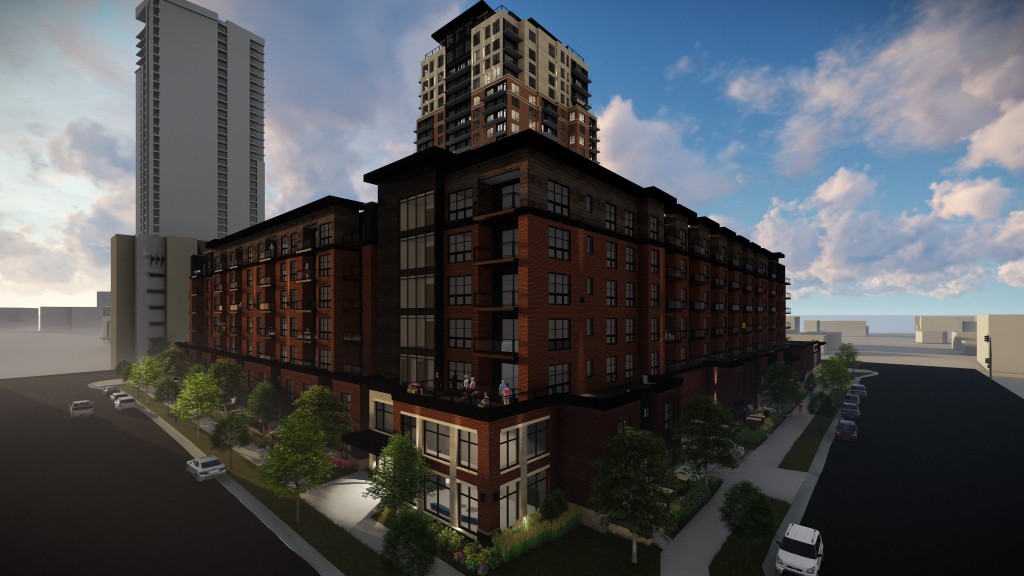 The Expo
University Avenue and 2nd Street and 2nd and 3rd avenues
Doran Cos., CSM Corp.
Doran Cos. and CSM Corp. have broken ground on a 368-unit luxury apartment complex that includes a tower that will rise 25 stories in Marcy-Holmes. The more than $100 million project, dubbed the Expo, is a full-block development will replace a surface parking lot bounded by University Avenue and 2nd Street and 2nd and 3rd avenues across the street from the General Mills Riverside Technical Center. The project will feature a 25-story high-rise with 199 apartments. Connected and covering the rest of the block will be a 12-story complex with an additional 157 apartments and 12 direct-entry townhomes. The building will include 10 affordable units and roughly 3,200 square feet of retail space. Residents of the Expo will have access to 60,000 square feet of amenities. A central terrace will be populated with a heated pool, grilling stations and a putting green. Minneapolis-based DLR Group is leading the project's interior design. The Expo is expected to open in the late spring or early summer of 2020.
City offices
501 S. 4th Ave.
City of Minneapolis
Demolition has begun on a parking ramp kitty-corner of City Hall, making room for a new 11-story office building for city workers. The 10-story ramp and its skyway connection closed in mid-June. The demolition will take approximately three months. The new Public Service Building, scheduled to open the fall of 2020, will include a "customer service-centric" public service area and room for roughly 1,300 city workers. MSR Design and Henning Larsen are designing the 380,000-square-foot project. Across the street, the City of Minneapolis will be renovating City Hall over the next five years as departments move out of the 125-year-old building and into their new offices.
NordHaus
315 1st Ave. NE
Lennar Multifamily Communities
NordHaus is officially open as of a June 21 grand opening event. The 20-story high-rise has 280 luxury apartments, including 12 penthouse units atop the tower. The project, built last year, is one of the tallest in the neighborhood, though still about 10 stories shorter than two existing condominium towers and six stories less than the under-construction 333 Hennepin project from Mortenson Construction. Rents at NordHaus range from under $1,500 for studio apartments to more than $9,000 for a nearly 3,000-square-foot apartment.
River Loop Apartments
800 1st St. N.
Opus Development
Opus Development is making progress on the design of its latest project in downtown Minneapolis, a six-story, market-rate apartment building proposed for vacant property near the Star Tribune's printing facility. The building, named River Loop Apartments in plans submitted to the City Planning Commission, would bring 225 apartments and 274 enclosed parking spaces to the neighborhood. The project will require rezoning the industrial-zoned property to R6, or high-density multi-family district. It will also require a conditional-use permit for a 12-stall surface parking lot. The unit mix would include studios at an average of 465 square feet, one-bedroom apartments (717 square feet) and two-bedroom units (1,139 square feet).
1717 Central Apartments
1717 Central Ave. NE
Master Properties Minnesota
After plans were continued earlier this year, Master Properties returned to the City Planning Commission on June 25, after this issue went to press, to get approvals for a five-story apartment proposed for Northeast Minneapolis. The 78-unit building would have 13,000 square feet of commercial space, 82 enclosed parking spaces and 11 surface stalls. A daycare center on the site would relocate inside the building once construction is completed. There would be two additional commercial tenant spaces.
14th Avenue Flats
854, 902, 904 14th Ave. NE
Schafer Richardson
Schafer Richardson is planning a six-story affordable housing project near the Northeast Ice Arena. The Minneapolis-based developer intends to build a 210,000-square-foot building that would replace a vehicle serving facility and vehicle and trailer storage in the Logan Park neighborhood. The project also calls for a 5,250-square-foot pre-engineered metal building for light industrial use and maker space, according to plans submitted to the City Planning Committee of the Whole. The residential building would have 175 affordable apartments that would be income restricted at 60 percent of the area median income. The proposed unit mix consists of studios, one-bedroom, two-bedroom and three-bedroom units, including some walk-up units. Proposed amenities include a 1,000-square-foot public gallery space, a fitness center, an outdoor patio, playground and a community room.
Thrivent parking, apts
625 4th Ave. S.
625 Development
Construction began in mid-June on an eight-story apartment building and parking ramp near Thrivent Financial's current headquarters. The company recently sold the 1.23-acre site to 625 Development for $4.5 million, according to a certificate of real estate value. The project features about 126 unit and 773 parking stalls. Thrivent is selling its adjacent office building to Hennepin County and plans to build new offices on a site kitty-corner from the new apartment building.
Radisson Blu Downtown
35 S. 7th St.
Hospitality Properties Trust
Hospitality Properties Trust has acquired the 360-room Radisson Blu Minneapolis Downtown hotel from an affiliate of KKR, which bought it in 2014 and rebranded under its current brand. Radisson Hotel Group will still manage the hotel, which is the ninth hotel Hospitality Properties Trust has purchased that is also managed by Radisson, according to a release. The $75 million purchase includes the hotel's FireLake Grill House and Cocktail Bar. The hotel features 29,000 square feet of meeting and event space, a 24-hour business center, a fitness center, parking spaces and Wi-Fi.