Longtime Hennepin County Sheriff Rich Stanek is seeing a challenge from Dave Hutchinson, who is criticizing the sheriff's cooperation with Immigration and Customs Enforcement.
The race is technically nonpartisan, although Stanek has served as a Republican legislator and holds a MN GOP recommendation, and Hutchinson received the DFL endorsement. In the August primary, Stanek received 49.2 percent of the vote, while Hutchinson received 34.6 percent and former candidate Joseph Banks received 16.3 percent of the vote.
Stanek, first elected in 2006, highlighted opioid prevention in his third term. His office equipped and trained first responders in all 45 cities to administer naloxone, which can rapidly reverse the effects of an overdose. He also focused on the mentally ill in prison, finding on a single day in 2016 that more than half of the jail's 600-plus inmates demonstrated signs of mental illness, leading Stanek to call jails the largest mental health facilities in the state. The Hennepin County Board has since approved construction of a 150-bed facility in Plymouth, to be used as an alternative to jail for the mentally ill.
Challenger Dave "Hutch" Hutchinson is emphasizing community policing in his approach. He is a Metro Transit Police sergeant with 15 years of law enforcement experience.
"Policing needs to change, and it can't change with somebody who is still policing from the 1990s. We have to bring this profession that I love into the 21st century," Hutchinson said at a candidate forum in July.
A key issue in the race is how the office interacts with ICE. The Sheriff's Office said in 2017 that everyone booked in jail is asked for their place of birth and citizenship. When inmates say they are not a citizen or born outside the U.S., the office said it calls ICE, which can also access booking information through federal agencies.
"No one in jail is there for an immigration violation," Stanek said at a candidate forum in September. "…Sheriffs are here to enforce all laws."
Stanek also said Hennepin County is the first sheriff's office in Minnesota to refuse detainer requests from ICE.
Hutchinson said that if elected, he would no longer instruct deputies to ask about immigration status. County officials should be more concerned about a Latino victim robbed on Lake Street, who might be scared to call police out of fear of deportation, he said.
The election comes at a time when the jail system in 2018 is exceeding its in-custody capacity, averaging more than 800 detained daily, according to the county. A recent summit in Hennepin and Ramsey Counties focused on alternatives to jail for the mentally ill and suspects of minor crimes.
Dave "Hutch" Hutchinson
Current job: Sergeant for the Metro Transit Police Department
City of residence: Bloomington
Key endorsements: Minnesota DFL, Stonewall DFL, SEIU Minnesota State Council, Teamsters Joint Council 32, MN 350 Climate Action, State Rep. Ilhan Omar, Minneapolis City Council members Jeremiah Ellison and Jeremy Schroeder (View full list at davehutchforsheriff.com)
Experience: Dave Hutchinson, or "Hutch," is a 15-year law enforcement and public safety professional.  Since 2006, he has served with the Metro Transit Police Department. He currently holds the position of sergeant, working on the north side of Minneapolis and surrounding suburbs. He also supervises the Peer Support Program, Crisis Intervention Training and Community Engagement Team. Before joining Metro Transit, Hutch worked as a Police Officer in Bayport, a small community with a population of just over 3,000 people.
Top priorities for the office: My top priorities are transparent and open communication to help rebuild trust with the community, addressing opioid addiction, teaching conflict de-escalation to all deputies, ending the Sheriff's Office's current relationship with ICE, and improving the safety of Hennepin County for everyone who lives in, works in, or visits it.
How should the department interact with ICE? I have seen firsthand the ripple effects of removing undocumented individuals from the community for minor offenses. As sheriff, I won't instruct deputies to ask individuals about their immigration status. By not making the Sheriff's Office an arm of federal immigration policy enforcement, we will rebuild trust with immigrant populations, which will make them more comfortable talking to the police, which in turn will make everyone in Hennepin County safer.
What is the best strategy to address jail overcrowding? I will approach this with a two-part strategy. First, I will improve training in the Sheriff's Office to recognize mental illness and addiction. Getting mentally ill and addicted individuals into treatment rather than jail will reduce the incarcerated population by 40 to 50 percent. Second, I will work with the Hennepin County Attorney's Office on diversion programs for first-time offenders. The goal of these programs is to steer young people who have made mistakes out of trouble and into jobs and job training. Research shows that these programs are very effective at preventing repeat offenses.
Why are you best for the job? Best practices for policing have changed. The tactics used by the incumbent sheriff have not. Many types of crime are up in Hennepin County, while trust in the police is down. I believe that we can change both with an approach of mutual respect and transparency between the community and the police. I will put the needs and rights of the people ahead of big corporations. You won't see me sending deputies to break up protests at the Standing Rock Reservation, as the current sheriff has done. Instead, you'll see me working hard every day for the citizens of Hennepin County.
Website: davehutchforsheriff.com
Facebook: @votehutch4hennepin
Twitter: @davehutch2018
Rich Stanek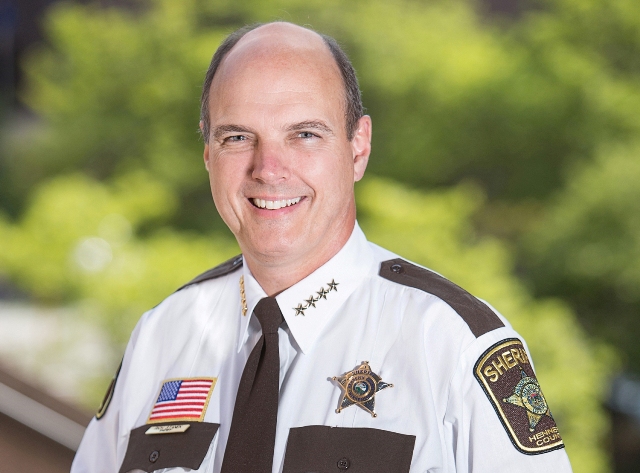 Current job: Hennepin County Sheriff
City of residence: I am a life-long resident of Hennepin County, currently living in Maple Grove with my wife and two children—I grew up in Northeast Minneapolis.
Key endorsements: Hennepin County Sheriff's Deputies Association, Hennepin County Sheriff's Supervisors Union, Police Officers Federation of Minneapolis, Minneapolis Firefighters Local 82, Minneapolis Building and Construction Trades Council and TwinWest PAC. (View full list at sheriffstanek.com)
Experience: I am a 35-year veteran of law enforcement—serving with the Minneapolis Police Department, rising through the ranks from Patrol Officer to Commander of Criminal Investigations. While serving as a police officer, I was elected to the Minnesota State Legislature five times, where I served as Chair of the Crime Prevention and Public Safety Committee. In 2003, the Governor appointed me Commissioner of Public Safety & Director of Homeland Security for Minnesota. Currently I am serving my third term as Sheriff of Hennepin County—first elected in 2006.
Top priorities for a new term
Violent crime: Violent crime is down countywide by more than 25 percent since I was first elected, but we can never let up, we must continue the fight against violent crime with all available resources and strategies.
Untreated mental illness: I will continue my advocacy to make sure mental illness is no longer criminalized by our justice system, and to ensure those with mental illness in our jail get the proper medical care and treatment they deserve.
Opioid Addiction: I will continue to work to educate residents about this public safety crisis and public health epidemic. To this end I have implemented several initiatives to address this threat to our families, neighbors and colleagues.
Hiring and training: I am especially proud of the work we have done to provide Crisis Intervention Training to sworn and detention officers, procedural justice and implicit bias training to all employees in the Sheriff's Office, and the improvements we have made in eliminating hiring disparities and employing a workforce that better reflects the community we serve.
Job of the Sheriff: I have always viewed it to be my job not just to respect, but also to protect the constitutional rights and civil liberties of every resident throughout the county.
How would the Sheriff's Office interact with ICE in a new term? As Sheriff I swore an oath to protect the constitutional rights of all residents, regardless of immigration status. I was the first Minnesota Sheriff to reject detainer holds from ICE, beginning in 2014. The county jail, and Sheriff's Office, does not detain any individuals for immigration violations—immigration related charges are federal civil violations, not local criminal violations.
What is the best strategy for jail overcrowding? As Sheriff, I have long said that we cannot criminalize mental illness, yet despite out best efforts county jails continue to serve as warehouses for mentally ill, low-level, non-violent offenders. For this reason, I continue to advocate at all levels of government for increased resources for our residents who are dealing with mental illness, chemical dependency, and homelessness who repeatedly find themselves in jail because there is nowhere else for law enforcement to take them.
Why are you best for the job? Since first being elected as Sheriff of Hennepin County, I have worked every day to show our community members that they can always count on me to make public safety my most important priority–protecting our families, neighborhoods, businesses, schools, and places of worship. I continue to guide change in the Sheriff's Office that has led to increased diversity hiring and training, decreased violent crime in the county, and increased community participation in Sheriff's Office policies, outreach, and education. As Sheriff, I do not report to a Mayor or County Board, instead I report to the residents. That's why your vote in this race is so important, and why it is a great honor to serve side-by-side with the men and women of the Hennepin County Sheriff's Office, who have sworn an oath to protect and defend all residents and visitors across the County.
Website: sheriffstanek.com
Facebook: @stanekmn
Twitter: @stanekmn