Affordable housing, offices and a bowling alley are among the proposed uses
Proposals for the Guthrie Liner Parcel, a narrow strip of land on Washington Avenue near the Guthrie Theater, include two office spaces, a mixed-use condominium project and an apartment complex with a bowling alley and restaurant.
Four developers submitted proposals for 800 Washington Ave. S., said Emily Stern, a senior project coordinator with the city's Community Planning and Economic Development department, in an email. The city-owned land, just over 24,000 square foot, shares the block with a parking garage and the headquarters of the American Academy of Neurology, which is looking to expand, possibly into the new building.
The city reopened a request for proposals in March, with submissions due in June, after a previous developer dropped its plans. Mortenson Development, which had planned to build a 10-story Hyatt Centric Hotel, said it failed to secure investment after winning rights to the land in 2015.
City staff is in the process of evaluating proposals, said Stern, and plans to consult neighborhood groups in August, provide a staff recommendation to the City Council and enter negotiations with a developer by early fall.
According to the recent RFP, the city would like to see a development with active-use, maximized retail space on the ground floor along Washington Avenue, and "if housing is included in the proposal… a mixed-income, mixed-use project that includes long-term affordability."
The four proposed developments feature at least one of these features. They are all estimated to be completed around 2021.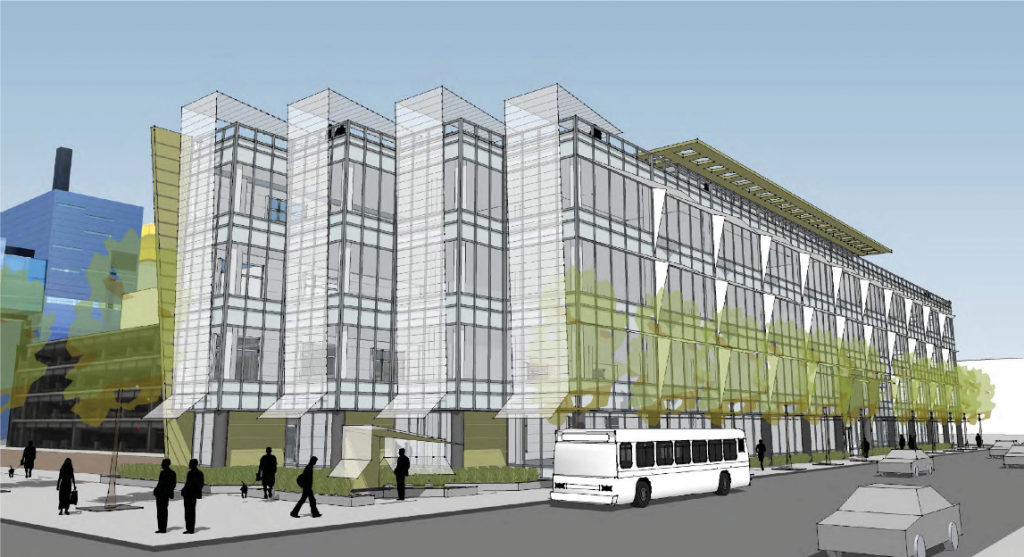 The 45 North Group, based in St. Louis Park, proposed a five-story "net-zero" office building, the first of its kind in the Twin Cities.
The building would be energy neutral, relying on solar power installed on the building and the neighboring parking garage, said Matt Tobin, a partner with 45 North.
"That solar array would produce enough power to supply the building 100 percent of what it needs," Tobin said. "We think we can attract a lot of tenants who would be interested in that type of facility."
The ground floor of the $20 million project would hold retail space for a restaurant and a range of possible health and wellness tenants, Tobin said, such as a pharmacy, yoga studio or gym.
The project is one of two office proposals for the site. The other is a built-to-suite office space put forth by Excelsior-based Oppidan, estimated to cost between $40 million and $60 million.
Oppidan had considered a similar project during the city's previous RFP but ended up not submitting a final proposal due to market factors, said Drew Johnson, Oppidan's vice president of development.
The six- to eight-story building is "user driven," said Johnson, which provides "catered space" for a single company looking for a smaller office or multiple tenants willing to share a building near downtown.
"It's one of the only parcels that can accommodate that," he said, highlighting that tenants would have a say in the design process.
There are multiple floors available for the American Academy of Neurology dependent on its needs, as well as retail space on the ground floor, Johnson added.
AECOM, a multinational firm based out of Los Angeles, proposed the only project with owner-occupied units.
The firm plans to build an eight-story building with around 80 condominiums, ground-floor retail space and 18,000 square feet of office space for the American Academy of Neurology. Its estimated to cost $65 million.
"Our proposal is around well-living and well-building," said Brian Dusek, managing partner of real estate development at AECOM's Minneapolis office. "It has a big focus on wellness around outdoor living spaces."
The building's design, which features open green spaces and a rooftop garden, stands apart from many of the apartments recently built in the area, which are "pretty vanilla," Dusek said.
"I think this would be a great addition to the area in the vein of that creativity you see in the Guthrie Theater," he said.
Sherman Associates, whose offices are just around the corner from the site, proposed the largest development, a 10-story apartment building, with office, recreational and retail spaces.
Carole Mette, a developer with Sherman, said the $54 million building was "a true urban mixed-use development."
The complex's bottom two floors would house Pinstripes, a restaurant with a bowling alley and bocce. There is also space for the American Academy of Neurology's expansion, which will be connected to the third floor via skyway, Mette said.
"We want to have an active use [space]…it will be good to infuse more life into this neighborhood," she said.
Sherman Associates had previously submitted a proposal in 2015 for a mixed-use hotel but lost out to Mortenson. With the area "pretty saturated with hotels," Mette said, apartments were the right fit this time around.
One-fifth of the 112 apartments would be dedicated to affordable housing for people earning 60 percent or less than area median income. According to the Metropolitan Council, the area median income for a household of four is around $94,000.
"There's almost no affordable housing in this area," Mette said. "It's something the city wants."
Joe Tamburino, chair of the Downtown Minneapolis Neighborhood Association, expressed qualms about more rental development in an area already flush with apartment construction.
"A lot of these apartments coming up are cookie cutter. They all look the same," he said.
"We have a ton of apartments. I just don't know how all of these are going to be rented."
Tamburino said he would like to see developers come to the neighborhood association for community input on everything from proper streetscaping to gauging foot traffic.
"There are so many of these little points that we can help the developers if they come to us first," he said.
Plus, he said, "It's a great show of respect that you're going to be a good neighbor."