The Development Tracker follows construction projects around downtown and Northeast Minneapolis
240 Hennepin Apts
240, 258 Hennepin Ave.
CA Ventures, Harlem Irving Cos.
Chicago-based CA Ventures and Illinois-based Harlem Irving Cos. have submitted a preliminary proposal to the City Planning Commission Committee of the Whole for one of the last remaining parcels fronting Hennepin Avenue in downtown Minneapolis. The developers are proposing a 20-story residential building with 355 units and nearly 21,000 square feet of commercial space that would be located on a roughly one-third-block parcel along Hennepin Avenue between Washington Avenue and 3rd Street. Tushie Montgomery Architects is designing the building, which would have three floors of underground parking with 363 spaces, in addition to 15 surface stalls. The proposed unit mix includes 115 studios, 140 one-bedroom apartments, 80 two-bedroom units and 20 penthouses, ranging from about 470 square feet to nearly 960 square feet.
8th St Apts
813 Portland Ave. S.
Kraus-Anderson
Kraus-Anderson has unveiled plans to the City Planning Commission Committee of the Whole for a 16-story apartment building with 357 units and 6,000 square feet of commercial space, which includes room for a new Wells Fargo bank. The project would replace a Wells Fargo bank in the Elliot Park neighborhood along 8th Street between Portland and Park avenues. The proposal calls for walk-up units along 8th Street and Park Avenue. The building's residents would have approximately 290 below-grade parking stalls and the bank would have 18 at-grade spaces, along with a drive-up ATM. ESG Architects is the project architect. The proposal requires conditional use permits for the height — 10 stories is allowed — and surface parking.
240 Park
240 Park Avenue
Garden Communities
Garden Communities is moving forward with plans for a 17-story luxury apartment building with 204 units at Washington & Park. The developer, owned by the Wilf family, the owners of the Minnesota Vikings, is proposing nearly 5,000 square feet of retail or restaurant space along Washington Avenue. The project calls for six floors of parking, including one underground, for a total of 275 parking spaces, according to plans submitted to the City Planning Commission Committee of the Whole. A conditional use permit will be required for the proposed maximum height of 188 feet. Minneapolis-based BKV Group is designing the project. The site is currently a vacant parking lot on the northeastern corner of the block that's home to Sawatdee and People Serving People.
Portland & Washington Mixed Use
240 Portland Ave., 500–520 3rd St. S.
Sherman Associates
Minneapolis-based Sherman Associates has submitted plans to the City Planning Commission Committee of the Whole to fill out the block that's home to the Crooked Pint Ale House and Minneapolis Fire Department's Station One. The three-part proposal features a 22-story market-rate apartment building at Washington & Portland with commercial space for two tenants; a six-story building with 90 units of affordable housing; and a new, roughly 20,000-square-foot fire station on the southwest corner of the site. The project, which would replace surface parking lots, includes two parking levels with 220 stalls underneath the tower and a 312-stall parking ramp.
First Street Apts
102–120 1st St. N.
Solhem Cos.
Solhem and TE Miller Development have a new proposal for a surface parking lot near the Federal Reserve Bank of Minneapolis in the North Loop. The preliminary plans feature a six-story mixed-use building with 196 residential units, approximately 6,000 square feet of ground-floor commercial space and about 240 parking spaces. The development team told city staff that, if plans are approved, they expect to break ground next spring and complete construction in the fall of 2020. The Heritage Preservation Commission previously saw a proposal from Colorado-based Solaris Redevelopment Corp., which stills owns the site, according to Hennepin County property record. The new proposal features several live-work units, five commercial bays and a roof deck with a garden.
Iron Store
500, 508, 520, 528 Washington Ave. N.
Dominium
Dominium has submitted preliminary plans for an affordable housing project that it unveiled earlier this summer. The Plymouth-based developer is proposing to renovate the North Loop's former Duffey Paper buildings, three structures that include the six-story Minneapolis Iron Store, three-story Steel Warehouse and two-story Lindsay Warehouse. Dominium also plans to construct a new seven-story building in place of a surface parking lot on the east side. In total, Iron Store would have approximately 201 units and 124 parking stalls.
620 Building
620 9th St. SE
North Bay Cos.
North Bay Cos. plans to partially demolish a one-story brick and concrete complex known as the 620 Building in Marcy-Holmes as part of a multi-building proposal that would bring a hotel, apartments and retail space to the neighborhood's formerly industrial edge. Several properties on the site were built between 1917 and 1968 and are not historically designated, though planning staff said in a memo that they meet several local designation criteria. The Minneapolis-based developer is proposing to turn a metal portion of the 620 Building into an event center as part of the hotel development.
Rand Tower
527 Marquette Ave.
Maven Real Estate Partners
Maven Real Estate Partners is moving forward with its $60 million conversion of downtown's Rand Tower into a boutique hotel, a proposal it announced earlier this year. The 1929 high-rise would be converted into a hotel using federal and state historic tax credits, according to plans submitted to the Heritage Preservation Commission by an LLC associated with the firm. Maven plans to keep the building's skyway tenants, but convert the first floor into a hotel lobby and meetings rooms and a space on the fifth floor into a restaurant and bar. The remainder of the building will be guest rooms. In addition to significant rehabilitation work, the firm is planning an addition and patio on the roof of an annex portion of the building.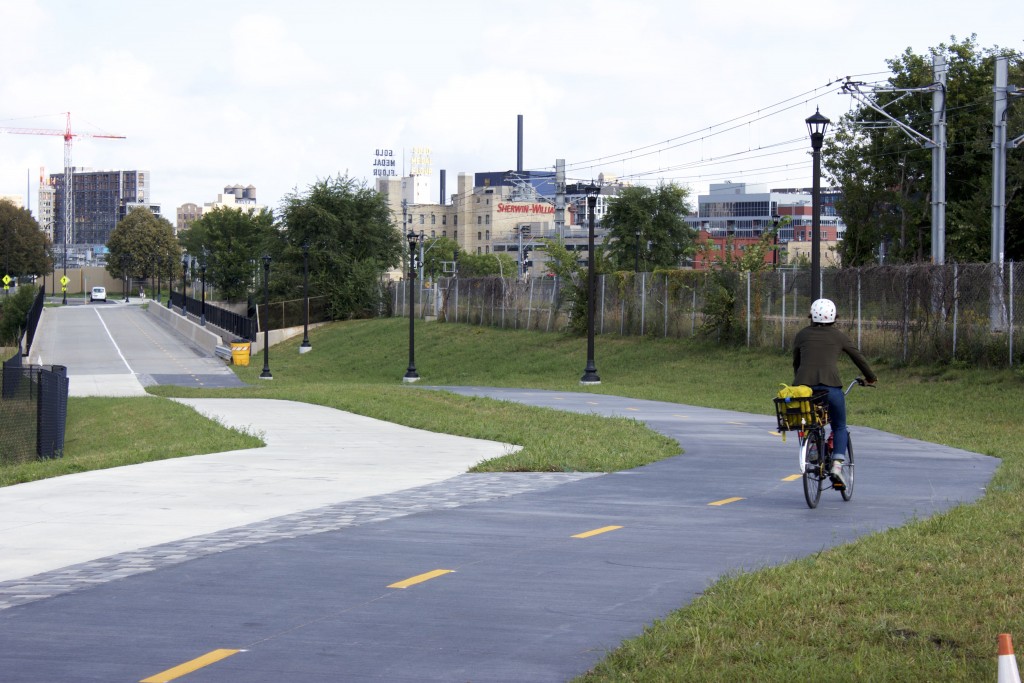 Samatar Crossing
Between 11th Avenue South and 15th Avenue South
City of Minneapolis
The City of Minneapolis is inviting artists to apply to collaboratively design new public art with Samatar Crossing, a recently opened pedestrian and bicycle connection between the Downtown East and Cedar-Riverside neighborhoods. The city is looking for up to three artists of any discipline to bring "iconic public artwork" to the path. The submission deadline is Oct. 10. More information is available on the city's website, minneapolismn.gov/dca.
606 Building
606 Washington Ave. N.
Paster Properties
An LLC associated with Paster Properties has purchased the North Loop warehouse building home to The Loop bar and restaurant from First & First for $4.3 million, according to a certificate of real estate value filed in Hennepin County. According to First & First, the building features more than 36,000 square feet of commercial space. The 606 building was among 17 properties the developer listed for sale in 2016.