It's a holiday tradition here at the Southwest Journal to send our reporting team out to scour the city for gifts.
Well, we're back with 16 new (and mostly local) ideas for holiday giving, from books and games for the kids on your list to gifts that keep on giving long past the holiday season. We've found some inexpensive stocking stuffers and a few splurge-worthy items to be wrapped up with a bow.
We're hoping this gift guide provides some inspiration as you seek out gifts for your loved ones. Happy holidays!
---
DOWNTOWN
---
Stocking stuffer
Handcrafted feather earrings
A recent visit to Inspire on the skyway level of City Center, one of the boutique's two downtown locations, inspired plenty of holiday gift ideas.
But several pairs of feather earrings stood out as perfect stocking stuffers — and a steal at just $10 a pair. The come with an interesting story, too: Handcrafted in Peru from ethically sourced feathers, they were made by indigenous women living in the Amazon rainforest.
The Inspire boutiques are owned and operated by Minneapolis-based Smile Network. Founded in 2003, the non-profit humanitarian organization sends volunteer medical teams around the world to perform cleft lip and cleft palate operations for children living in developing countries.
Purchases at the shops not only benefit the Smile Network, they help to empower female artisans around the world.
Price: $10
Where you can find it: Inspire, 108 W. 14th St. or 33 S. 6th St. (City Center, skyway level)
---
From Santa
'Good Rosie!' by Kate DiCamillo and Harry Bliss
Minneapolis author Kate DiCamillo's latest children's book tells the story of Rosie the dog and her owner, George, who veer from a life of quiet routine to make a trip to the dog park. There, Rosie confronts the challenges of making new friends.
Any kid who has ever felt lonely on the playground can sympathize with terrier-sized Rosie, who doesn't immediately take to big, slobbery Maurice or yippy, hyperactive Fifi. But she overcomes her trepidation after a few slapstick encounters with the pair, illustrated comic-book style by DiCamillo's collaborator, Harry Bliss, whom adults may recognize from his New Yorker covers and cartoons.
Downtown bookstore Milkweed Books hosted a September book release celebration and signing. As of a few days before Thanksgiving, autographed copies were still available for DiCamillo super-fans.
Price: $16.99
Where you can find it: Milkweed Books, 1011 Washington Ave. S., Suite 107
---
With a bow
'Purple Reign' Timberwolves jersey
This gift idea does double duty, good for any local sports or music fan on your list — not that those interests are mutually exclusive.
Take Prince, for example. Our dearly departed musical legend was famously — thanks in no small part to a classic "Chapelle's Show" sketch — a better-than-decent pick-up basketball player. (He also played basketball, among other sports, as a middle and high schooler during his Minneapolis youth.)
In November, the Minnesota Timberwolves suited up for the first time in their 2018–2019 season City Edition jerseys, featuring a font and color scheme that evoke Prince's classic "Purple Rain" album, released in 1984. They not only honored a hometown hero, but did it in a building (Target Center) located kitty-corner from First Avenue, the club where Prince built a following and filmed scenes from the movie version of "Purple Rain."
Price: City Edition gear starts at $18. Jerseys are $110–$225.
Where you can find it: Timberwolves Team Store, 600 N. 1st Ave. (skyway level of the Target Center)
---
Keep on giving
Brave New Workshop season pass
This time of year, the Brave New Workshop is packing 'em into its annual holiday show, a must-see for the theater's many fans that typically mixes new sketches with older material drawn from 60 years of performances.
Featuring a cast stocked with uber-talented performers like Lauren Anderson — who ranks high on the list of funniest people in the Twin Cities — the Brave New Workshop provides plenty of reasons to return all year round. And if you or someone you know would like to make live, local sketch comedy a regular part of their life, then the theater's season pass would make an excellent gift.
Passes come in several flavors, each with perks like early access to tickets and $1 off of drinks at the theater's bar. Those who opt for "The Honorary Bowtie" — a reference to the theater's founder, improv legend Dudley Riggs — get free admission to late-night improv performances and opportunities to mingle with the cast.
(Keep in mind that BNW's humor is aimed at adults and kids under 13 aren't admitted to shows.)
Price: $85 for one, $155 for two or $295 for four. "The Honorary Bowtie" pass is $340 and includes additional benefits.
Where you can find it: bravenewworkshop.com
---
UPTOWN
---
Stocking stuffer
Sage bundle
What better gift to give around the New Year than restorative balance?
For an affordable renewal to the souls of people in your life, look no further than a sage bundle from Eye of Horus Metaphysical Supplies and Gifts on Lake Street.
White Sage, also known as buffalo sage or sacred sage, is used in a ritual known as smudging to wipe away negative energies from rooms, people or objects. For those less spiritually inclined, it's also a pleasant way to change up the smell of your living space.
The hand-wrapped sage bundles at Metaphysical Supplies and Gifts vary in size, and plant base. For a more Christmas-esque theme, try a cedar bundle that will make any stocking (or room when burned) smell of pine trees.
Price: White Sage bundle, $4.95; Cedar bundle, $6.95.
Where you can find it: Eye of Horus Metaphysical Supplies and Gifts, 910 W. Lake St.
---
From Santa
Codenames
Time off with the family around the holidays is great, but you're not really spending time together if you're all in one room staring at tablets. Enter board games.
This year, among the big sellers are the Codenames series, according to Michael Russo at Universe Games in LynLake.
Codenames is a card and board game where two teams compete, with each having a "spymaster" who gives one-word clues to the "agents" on their team that can point to multiple words on the board.  Players try to guess their team's words and avoid the words of the other team.
Russo said Codenames is a good family game, suitable for kids 7 and older. There are various themes to Codenames, so you can choose Harry Potter, Disney or Marvel editions, among others.
If you're looking for the classics, Russo said Catan remains king of the holiday gift season. Universe Games stocks up and sells out nearly every year.
Price: Codenames ranges from $19.99 to $24.99 depending on the version.
Where to find it: Universe Games, 711 W. Lake St.
---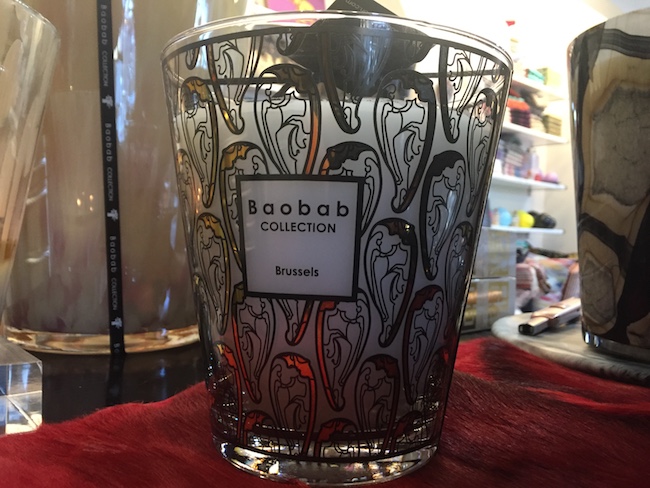 With a bow
Baobab candles
For the person in your life with a keen eye for home decor, Julia Moss Designs in Lowry Hill is the spot for gifts that will stand out.
Moss specializes in revitalizing vintage silver with color but sells a variety of pieces that can add to any living space. For the candle lovers, the Holy Grail is the Baobab collection.
Massive scented candles poured into hand-blown glass from Belgium, Baobab candles will stick out and last for months. Each glass case is unique, and there are a variety of scents available.
The candles range in size and price, with the largest capable of burning for 800 hours.
"They're definitely a lifestyle candle and a statement piece," Moss said.
Price: $105–$590, depending on size.
Where to find it: Julia Moss Designs, 2508 Hennepin Ave.
---
Keep on giving
SK Coffee subscription
In every family or friend group, there's one person not content with the Maxwell House drip coffee. But have no fear: Minneapolis roaster SK Coffee is here to help with three holiday coffee subscription gift packages, depending on how extravagant you want to be.
SK Coffee roasts their beans out of the Salty Tart bakery on Harriet Avenue just north of Lake Street in LynLake and offers subscription packages that send varieties of coffee from Central America and Africa to customers.
For the holidays, they're offering three gift packages at different price points.
For $90, get a three 4 oz. bags of coffee, plus a three-month subscription. Each month, your caffeine fiend friend will receive an additional three 4 oz. bags of new coffee varieties to enjoy.
For $110, get three 4 oz. bags of coffee, plus an SK mug and pour-over coffee dripper.
For $130, get three 4 oz. bags, the mug, pour-over coffee dripper and a three-month subscription.
SK coffee partner Nate Broadbridge said supplies are limited for the holiday packages, so be sure to order fast. Subscriptions are only available online, though SK Coffee does sell their beans at Salty Tart and area farmers markets.
This winter you can find their beans at the Linden Hills Holiday Market.
Price: $90–$130, shipping included
Where to find it: skcoffee.org
---
SOUTHWEST
---
Stocking stuffer
Religious figurines
Near the register of Hunt & Gather sits a shelf full of religious figurines and ornaments available for under $10. Hunt & Gather also has a variety of low-cost leather coin bags available for those who want to package a stocking stuffer in a unique way. The 15-year-old antique store sells a variety of vintage clothing, records, furniture and taxidermic animals, with offerings ever-changing. "Quirky, one-of-a-kind, genuine gifts," was how Hunt & Gather owner Kristi Stratton described the store. "There's great gifts for everybody," she added. Online, Hunt & Gather describes itself as a "vintage amusement store." It maintains a robust Instagram presence where it features upcoming deals and products (online at instagram.com/p/BqVCe5zF4_7).
Price: $3 (for the figurines)
Where you can find it: Hunt & Gather, 4944 Xerxes Ave. S.
---
From Santa
Books from Wild Rumpus
The Linden Hills-based children's bookstore has several dozen recommended titles sitting in its front window display, from books for elementary students to ones for teens. Current recommended titles include the book "Saving Winslow" by Newberry Medal winner Sharon Creech and "Voyage of the Dogs" by Greg van Eekhout. Wild Rumpus also has several tables of gift boxes and a table full of holiday-themed books. The store has a buyer's guide available in store and online at wildrumpusbooks.com, and it offers complementary gift-wrapping and shipping. In addition, patrons can buy a tote bag and receive 20 percent off all purchases on any subsequent visits.
Price: Books range in cost.
Where you can find it: Wild Rumpus, 2720 W. 43rd St.
---
With a bow
Keshi pearl necklace
Keshi is the Japanese word for poppy, according to Jenifer Bellefleur, co-owner of New Gild Jewelers in Linden Hills. She called this strand of blush-colored pearls with metallic overtones a "rare treat," noting that it's strung on natural silk with a puzzle clasp in sterling silver. New Gild Jewelers provides full-service custom jewelry design and restoration, in addition to a ready-to-wear engagement collection and a gallery of artist-made gifts. "It's different here, and you'll feel it the moment you walk in our door," Bellefleur said in an email. She and co-owner Kelsey John Lee-Karol opened the shop in spring 2017.
Price: $485 for the pearls.
Where you can find it: New Gild Jewelers, 4250 Upton Ave. S.
---
Keep on giving
Holiday crafting at Heartfelt
Inside Linden Hills' seven-year-old craft store, parents and kids alike can create and decorate everything from fairy tree houses to Hanukkah menorahs, unicorns and beaded bracelets. Those interested in crafting don't need to sign up ahead of time; they can stop in anytime the store is open and make their own gifts or crafts. Heartfelt provides the supplies, from beads to pipe cleaners and paints, and kids and adults alike get to use their imagination to make creations as they see fit. The store is hosting its annual Reindeer Day 10 a.m.–2 p.m. Saturday, Dec. 1, and is hosting a preschool solstice festival 10:30 a.m.–11:45 a.m. Dec. 19 and Dec. 20 (advance registration required). The store offers extended hours in December.
Price: Crafts range in price from $2–$88, though most are around $10–$25
Where you can find it: Heartfelt, 4306 Upton Ave. S.
---
NORTHEAST
---
Stocking stuffer
Minnesota spice cookies
The bakers who mill their own flour and stamp each loaf with a personal signature are making holiday cookies. Baker's Field Flour & Bread is offering the Minnesota Spice cookie this season, inspired by a classic German cookie with cocoa, hazelnuts and a touch of heat from cayenne. The Minnesota-shaped cookies will share the shelves with foods like Red Table Meat Co.'s salami at the "Last Call" market on Dec. 22. The market will also feature pancake mix made from local grains, Linzer cookies, Dutch speculaas cookies and stollen, a bread made with whiskey, butter, hazelnut, candy lime and orange.
The bakery grinds flour daily for better flavor, and the flour is stone ground for a full, sweet and nutty taste.
Price: Under $10
Where you can find it: The Draft Horse at the FOOD BUILDING, 1401 Marshall St. NE
---
From Santa
Bear pom hat
Knit by hand in Minneapolis, the bear pom hat is made by MashaPoncho's Sarah Williams. It's available at I Like You in Northeast, a shop that features goods from more than 200 local or independent artists, a kids' play area and lots of choices for little ones. There are shirts that sport the words "Gray Duck," "Loonicorn" or "No Pants." There are board books like "Get Dressed, Sasquatch!" and "Monster ABC," where "B" is for Banshee and "H" is for Hobgoblin. And there are handmade dolls by Little Ren, each uniquely crafted from forgotten fabric remnants and intended to celebrate individuality and creativity.
Price: $20
Where you can find it: I Like You, 501 1st Ave. NE
---
With a bow
Repurposed lamps by Mat Resist
Vintage lamps abound at Repurpose Republic, a hub for industrial and midcentury modern furnishings overseen by Champ, the shop cat. Staff work to restore and repurpose antique buffet tables and cabinets while desk and ceiling space is covered in light fixtures, with more in storage. Some of the lamps come courtesy of Mat Resist from the Resist Transmogrification Laboratory, a builder who has worked out of an attic he dubbed the "world's most dangerous guest room." His lamps are pieced together from bicycle parts or washing boards or scorpion cigar boxes.
Price: $50–$125
Where to find it: Repurpose Republic, 2833-2835 Central Ave. NE
---
Keep on giving
Glassblowing class
Novice glassblowers can make their own pint glasses, paperweights or ornaments inside a cavernous space home to the nonprofit Foci Minnesota Center for Glass Arts. A one-on-one introductory class covers basic glass techniques in a studio and gallery that's open to the public seven days a week. It's all housed in a former General Mills research laboratory, which now provides studio space for artists and small businesses like Dean's Kombucha; Asa Hoyt, a lead welder of "the Bean" in Chicago; and stained glass artists Morgan Grayce Willow and Blake Lynden. Glass artists can rent kiln time and sell their pieces at a gallery onsite, where shoppers will find cups, vases and other artwork for sale.
Price: Introductory "discovery" classes are $85–$140
Where you can find it: 2010 Art Blok building at 2010 E. Hennepin Ave.